Insurance premium finance for internal operations ...
Definitions: Back office - "The internal operations of an organization that are not accessible or visible to the general public..." "of or relating to the inner workings of a business or institution..."Back Office+™ is a insurance premium finance software for Windows innovation.
Born from our past premium finance software developed since 1979.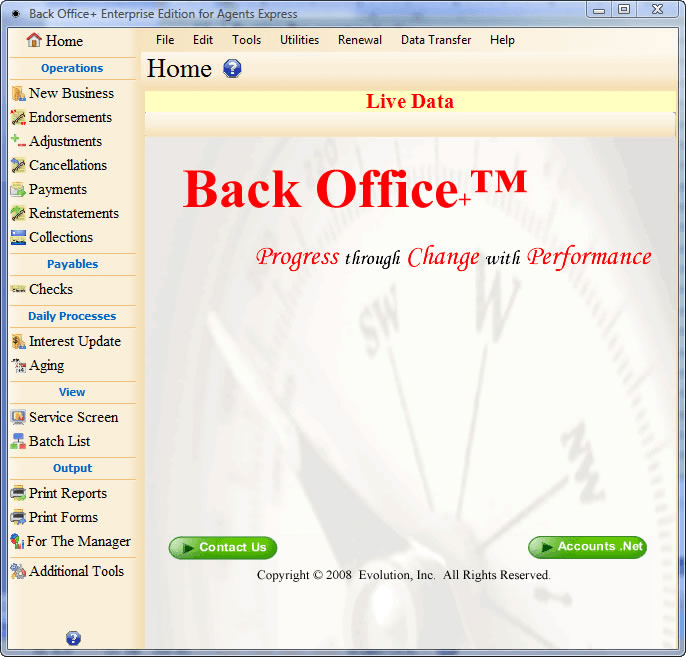 Premium finance functionality is surpassed by none. Lower unit costs with improved workflow for all processes. Bring your task we probably have you covered. Other "thinking outside the box" functionality like Rater integration, carrier billing integration, outsource printing, renewals, insurance policy commissions, borrowing base certificate, marketing reps, private label plans, securitization to name a few that you may need to compete or grow your business.
I know see other vendor using the word "Finally" in their advertisement. I agree about the word "Finally", what took you so long, Evolution has always lead in innovation, features and functionally that allows you more choices with more control and analytical abilities to analyze your business!
Back Office+ ships ready to enter new loans with pre-built forms, reports, all state laws, insurance companies and MGAs. Just add your agents, do a quick review and you will be on your way.
Click here to read more about the following topics:
Premium finance software vendors,
Marketing your premium finance company,
Reducing unit cost,
Increase retention,
Integration,
Premium finance software in the cloud,
Forms printing, imaging, e-mail, fax, outsourcing forms printing,
Accounting, what are you missing?,
Management issues.
Since 1979 Evolution has been helping insurance premium finance companies streamline and grow their businesses. Know you have the right software when you can use the same enterprise premium software software that has passed accounting audits and procedural audits by our customers as well as exceeding expectations on a variety of stress tests by the largest computer consulting company in the world, Accenture.
We earned our creditability. Software with a good, reliable track record. As of our last poll way back in 2004, we found that our users had processed 1.1 million loans with close to $14 billion in premium just through our Windows products alone.
Premium finance software can reside on your server (in-house) or in the cloud, your choice with Evolution. Most large premium finance companies keep their software and database in-house (on their server) to protect their trade secret status including agent's X-dates. Here is a suggested reading link by the SBA on 5 Steps for Protecting Your Trade Secrets.
If you are a startup or seasoned premium finance company we have guidelines and articles here to help you grow and improve your business.
Contact us for a premium finance software review.